I live in the town of Hastings, Nebraska. Hastings began as a regional rail center and wholesale depot supplying northern Kansas and south western Nebraska. The town was incorporated in 1872. It is the Adams county seat and has about 21,000 residents. Hastings is the home of three colleges. Hastings College, Central Community College, and the Mary Lanning School of Nursing are all located here.
The nearby Naval Ammunition Depot was the largest in the United States during World War II and the Korean War. Today the land contains: Hastings Industrial Park East, Central Community College, and the Roman L. Hruska Meat Animal Reasearch Center.
Cultral attractions include the Hastings Community Theatre, and the Hastings Symphony-the only amateur symphony orchestra in Nebraska. The Hastings Museum is a nationally renowned natural history museum. It contains the J.M. McDonald Planetarium and the Lied Super Screen theatre. The huge screen and surround sound system of the theatre make this truly an adventure!
Nearby the Hastings Museam is the Fisher Rainbow Fountain. It operates in the summer from Mother's Day until after Labor Day. Is is one of the few rainbow fountains in existence today!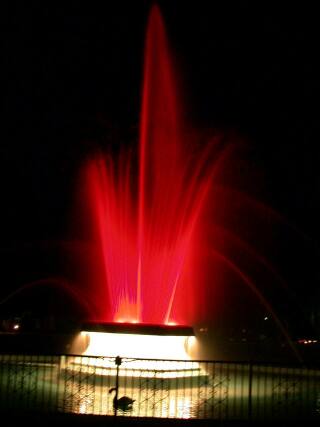 Beautiful Fisher Rainbow Fountain
Outdoor activities may be pursued at nearby Lake Hastings, the Nebraska State Softball Complex, and nearby Crystal Lake State recreation area. Springtime is the peak season for viewing migratory birds. Large numbers of the unique Sandhill Cranes, as well as Canadian and snow geese pass through the area in the spring. Viewers from nearby states enjoy watching the birds during their several week stay in the area.
Last Updated: 10/08/05
Back to Home Page